Official HOUSE OF CARDS Trailer and Poster for 2nd Season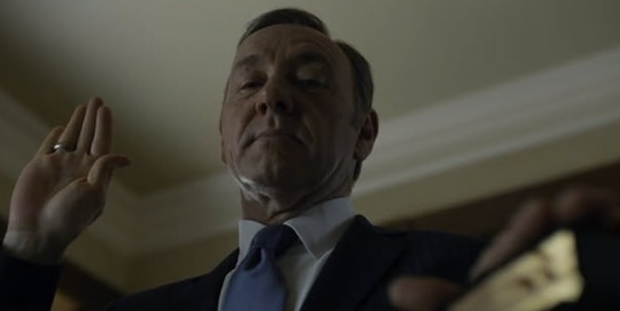 There are two kinds of pain and there is but one rule – hunt or be hunted – says Frank Underwood, who is finally the Vice President.
After season one's machinations, the official trailer for the second season of House of Cards finds Underwood (Kevin Spacey) getting sworn in as Vice President. And then, in his own style, tells the audience: "One heartbeat away from the presidency, and not a single vote cast in my name. Democracy is so overrated."
Apparently, nothing will stand in between him and White House. Of course there will be some obstacles, people will try to expose the truth behind him. But how far will Underwood and his equally manipulative wife, Claire (Robin Wright), go to achieve their ultimate goal?
We'll have to wait February 14 to find out, so, get ready for 13 episodes of the Netflix series.
Take a look at the trailer and you can also check out here the official synopsis for the second season of House of Cards.
Created by Beau Willimon, David Fincher and Eric Roth, the drama series also stars Kate Mara, Gerald McRaney, Mahershala Ali, Sebastian Arcelus, Kristen Connolly, Nathan Darrow, Sakina Jaffrey, Michael Kelly and Molly Parker.