THE NUT JOB Posters & Promo Trailer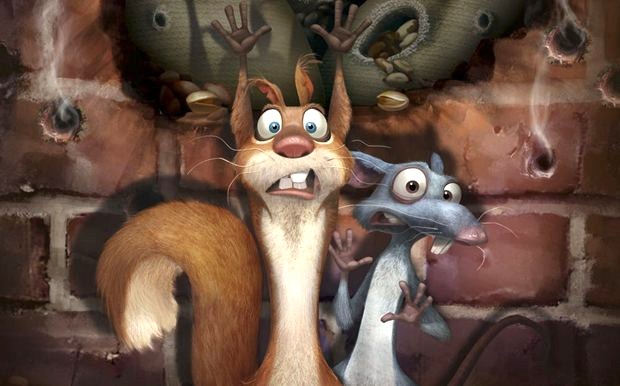 Four new posters and one pretty cool promo-trailer for
Peter Lepeniotis
' upcoming
The Nut Job
have arrived just in time to remind us all that those squirrels are weird as hell! Especially Surly, voiced by
Will Arnett
, an independent squirrel, banished from his park and forced to survive in the city. Looks great, head inside to check him out… Written by Lepeniotis and
Lorne Cameron
, and based on Lepeniotis' short animated film
Surly Squirrel
, the movie is set in fictional Oakton, and follows the travails of Surly, a mischievous squirrel. Together with his rat friend Buddy, they plan a nut-store heist of outrageous proportions and unwittingly find themselves embroiled in a complicated adventure. Here's that promo-trailer:
And in case you've missed the official plot:
Surly, a curmudgeon, independent squirrel is banished from his park and forced to survive in the city. Lucky for him, he stumbles on the one thing that may be able to save his life, and the rest of park community, as they gear up for winter – Maury's Nut Store.
Featuring the voice talents of
Liam Neeson
,
Katherine Heigl
,
Brendan Fraser
,
Stephen Lang
,
Sarah Gadon
and
Jeff Dunham
,
The Nut Job
is set to hit theaters on January 17th, 2014. Don't forget to click on all these posters to enlarge & make sure you stay tuned for more updates!