New MACHETE KILLS Trailer Centers On Lady Gaga And Her 'Aura'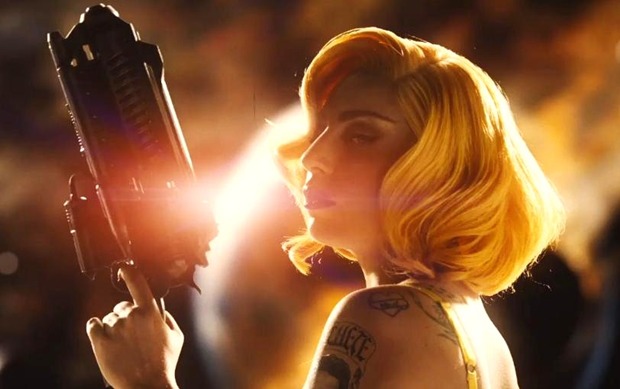 Yep, the latest trailer for
Machete Kills
is all about
Lady Gaga
and her never-before-released song "Aura", so I'm sure you're going to enjoy in some La Camaleón action! As usual, you will also have a chance to take another look at
Danny Trejo
aka Machete – he's definitely more than ready to stop that crazy arms dealer, head inside to check them all out! Also starring
Michelle Rodriguez
,
Sofia Vergara
,
Amber Heard
,
Carlos Estevez
,
Antonio Banderas
,
Jessica Alba
,
Demián Bichir
,
Alexa Vega
,
Vanessa Hudgens
,
Cuba Gooding, Jr.
,
William Sadler
,
Marko Zaror
and
Mel Gibson
, the movie is set to hit theaters on October 11th, 2013. Here's the latest trailer: And here's the official synopsis:
Trejo returns as ex-Federale agent Machete, who is recruited by the President of the United States for a mission which would be impossible for any mortal man – he must take down a madman revolutionary and an eccentric billionaire arms dealer who has hatched a plan to spread war and anarchy across the planet.
Let us know what you think about the video & stay tuned for more!