New MACHETE KILLS Character Poster: Amber Heard Is Miss San Antonio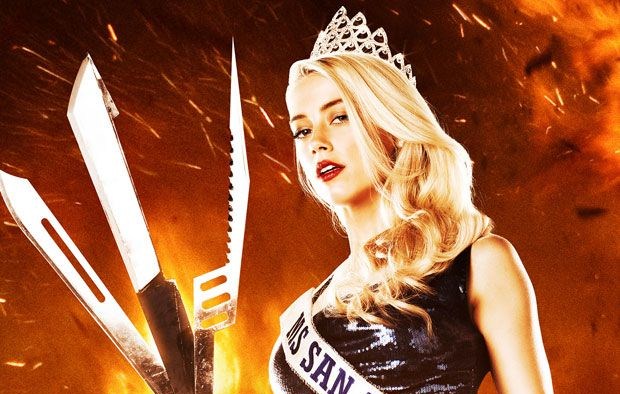 We already shared one pretty cool Machete Kills clip (and pics) with Amber Heard, and today – we're back to give you a much better look at our cute little Miss San Antonio! As you already see from our title, time to share a brand new character poster for Robert Rodriguez's upcoming sequel, which opens in… like… ten days! Head inside to check her out!
Written and directed by Rodriguez, the movie will once again revolve around the titular ex-federale, played by Danny Trejo, who is (this time) recruited by the U.S. President to take down an arms dealer who looks to launch a weapon into space.
In case you've missed our previous reports, we definitely recommend you to check out one pretty cool action-packed red band trailer and another clip from Machete Kills, which is set to hit theaters on October 11th, 2013.
And in case you want to read the official synopsis once again:
Danny Trejo returns as ex-Federale agent Machete, who is recruited by the President of the United States for a mission which would be impossible for any mortal man – he must take down a madman revolutionary and an eccentric billionaire arms dealer who has hatched a plan to spread war and anarchy across the planet.
Beside Trejo and Heard, the rest of Machete Kills cast includes Michelle Rodriguez, Sofia Vergara, Carlos Estevez, Lady Gaga, Antonio Banderas, Jessica Alba, Demián Bichir, Vanessa Hudgens, Cuba Gooding, Jr., William Sadler, Marko Zaror and Mel Gibson.
Let us know what you think about the latest poster & stay tuned for even more updates!