FAST & FURIOUS 7: First Look At Kurt Russell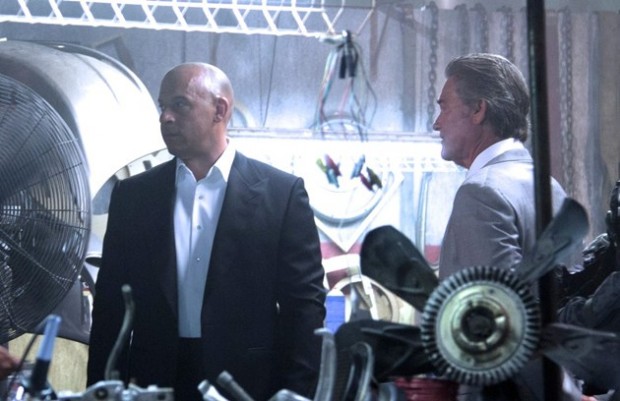 Nothing spectacular in here, just another behind-the-scene image with Vin Diesel, Paul Walker and Kurt Russell. Yep, Russell is a brand new member of Fast & Furious 7 team, but unfortunately, there's still nothing about his role. Except that unofficial Twitter feed that "he would play father of Jesse, and he would be Toretto's villain". Head inside to take a better look at the above mentioned trio…
As usual, we will once again remind you that James Wan directs the seventh installment in the Fast and the Furious film series from a script written by Chris Morgan, which will reportedly return the action to Los Angeles.
As for the rest of the plot, this is all we have at this moment:
After killing Owen Shaw and his crew, Dominic, Brian and their crew are able to return to the United States and live the normal life again as they had wanted. But, Owen's older brother, Ian Shaw is after Dominic, seeking revenge for the death of his brother, and after staging Han's death, the crew sets out to kill the man who killed one of their own.
Also starring Jason Statham, Tyrese Gibson, Tony Jaa, Nathalie Emmanuel, Djimon Hounsou and Lucas Black, Fast & Furious 7 is already set to hit theaters on July 11th, 2014.
Don't forget to click on this image to enlarge & make sure you stay tuned for more updates!