Another Xerxes Banner For 300: RISE OF AN EMPIRE Arrives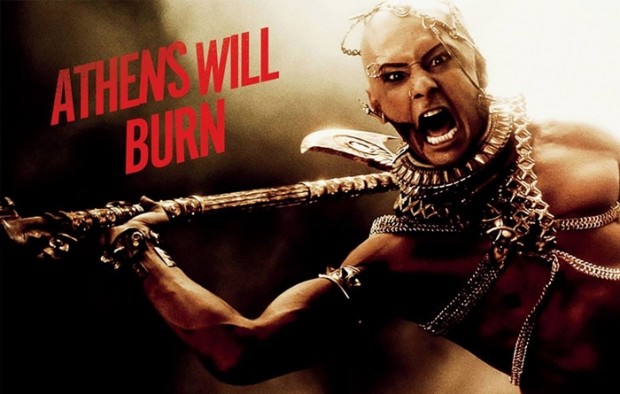 Yet another banner for
300: Rise Of An Empire
has arrived just in time to remind you that Xerxes, aka ruthless Persian emperor played by
Rodrigo Santoro
, is more than ready to attack Themistokles and his crew. Or, as this new image says:
Athens will burn
! Head inside to check him out & let us know what you think… You already know all important details (if not, check out the latest
trailer
, more
banners
, some great
character posters
and
TV spots
for the pic)  but we will once again remind you that
Noam Murro
's epic action adventure takes the action on the sea, and follows:
…Greek general Themistokles who attempts to unite all of Greece by leading the charge that will change the course of the war. The movie pits Themistokles against the massive invading Persian forces led by mortal-turned-god Xerxes, and Artemesia, vengeful commander of the Persian navy.
Also starring
Sullivan Stapleton
,
Eva Green
,
Lena Headey
,
Hans Matheson
,
David Wenham
,
Igal Naor
,
Callan Mulvey
,
Jack O'Connell
and
Andrew Tiernan
, the movie is set to hit theaters on March 7th, 2014. As usual –
click
on this banner to enlarge & stay tuned for even more updates!