Don't Miss: Covers & Artwork For Titan Comics' Graphic Novel That Inspired Bong Joon-Ho's SNOWPIERCER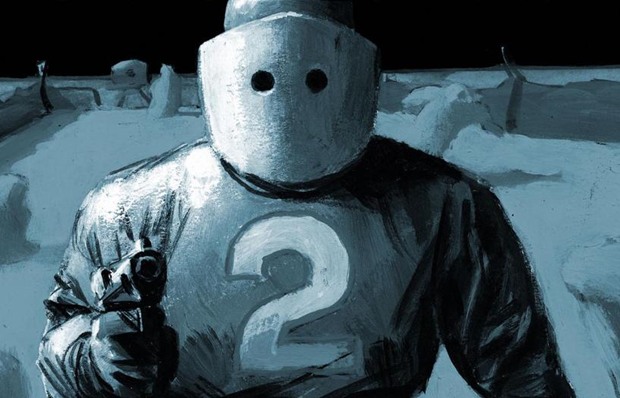 Here's an awesome news for all
Snowpiercer
fans out there – Titan Comics will release an English translation of the acclaimed French graphic novel
Le Transperceneige
in early 2014! Yep, we
are
talking about the same graphic novel that inspired
Bong Joon-ho
's upcoming apocalyptic action thriller! Head inside to take a first look at the artwork and some sample pages from the novel… Titan Comics is proud to announce a world-first English translation of the acclaimed French comic, in a pair of graphic novels hitting stores in early 2014 ahead of the US release of the film.
Volume 1: The Escape
is released January 29, 2014, with
Volume 2: The Explorers
following February 25, 2014
Coursing through an eternal winter, on an icy track wrapped around the frozen planet Earth, there travels Snowpiercer, a train one thousand and one carriages long. From fearsome engine to final car, all surviving human life is here: a complete hierarchy of the society we lost… The elite, as ever, travel in luxury at the front of the train – but for those in the rear coaches, life is squalid, miserable and short. Proloff is a refugee from the tail, determined never to go back. In his journey forward through the train, he hopes to reach the mythical engine and, perhaps, find some hope for the future…
The thrilling original graphic novels have been adapted into an astounding new film directed by
Joon-ho Bong
, starring
Chris Evans
,
Alison Pill
,
Tilda Swinton
,
Jamie Bell
,
Ed Harris
and
John Hurt
, and distributed in the U.S. by The Weinstein Company, and due for release in Q1 2014. Written by the late
Jacques Lob
, winner of the Grand Prix de la ville d'Angoulême, and
Benjamin Legrand
, the author of numerous thriller novels, screenplays, and comic scripts,
Snowpiercer
is illustrated by
Jean-Marc Rochette
, who has worked across a variety of projects and genres, from science fiction comics to children's cartoons – including adaptations of Voltaire's Candide and Homer's Odyssey. For more information about Titan Comics, visit their
official site
. Now,
click
on all these images to enlarge & let us know what you think!