Check Out: Beautiful New Poster For RIO 2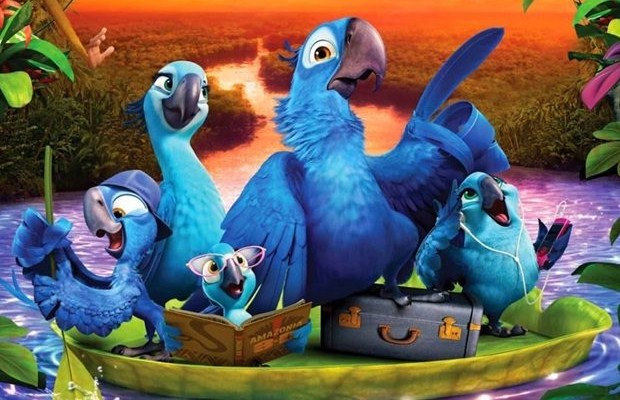 20th Century Fox and Blue Sky Studios'
Rio 2
reveals another beautiful (international) poster with our favourite birds – Blue, Jewel and their cute kids! This shiny, happy family is definitely more than ready to leave their domesticated life in the city of Rio de Janeiro and continue their adventures in the Amazon rainforest. Head inside to check them out… Director
Carlos Saldanha
stands behind the sequel to the 2011 computer-animated film, which follows Blu, Jewel and their three kids who, as we said, leave their domesticated life for a journey to the Amazon rainforest where they encounter a menagerie of characters born to be wild. In case you've missed the very
first trailer
and some great
character posters for Rio 2
, now is the perfect moment to take a look, and for those who may have missed the official plot:
When Jewel decides the kids need to learn to live like real birds, she insists the family venture into the Amazon. As Blu tries to fit in with his new neighbors, he worries he may lose Jewel and the kids to the call of the wild. Upon arrival, the family comes across Jewel's long-lost father, in hiding with a group of other Spix's Macaws. But things take a turn for the worse when they realize their Amazonian habitat is under threat and that Blu and Jewel's old nemesis Nigel the cockatoo is back for revenge.
Rio 2
features the returning voices of
Jesse Eisenberg
,
Anne Hathaway
,
will.i.am
,
Jamie Foxx
,
George Lopez
,
Tracy Morgan
,
Jemaine Clement
,
Leslie Mann
,
Rodrigo Santoro
, and
Jake T. Austin
, and the movie is already set to hit theaters on April 11th, 2014. Click on the poster to enlarge & stay tuned for more updates!