First Poster For A LONG WAY DOWN, Starring Toni Collette, Aaron Paul, Imogen Poots & Pierce Brosnan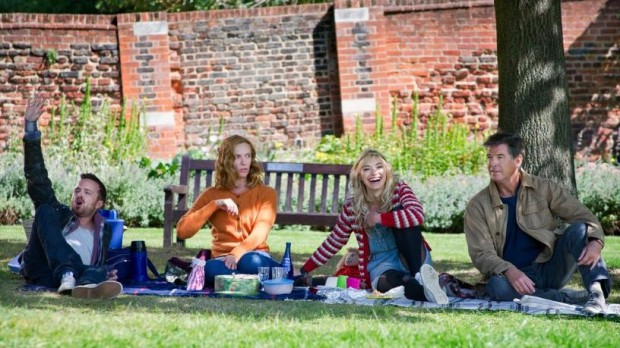 Yes, all those great names star in the upcoming big screen adaptation of Nick Hornby's novel titled A Long Way Down. And, in case you forgot, Toni Collette, Aaron Paul, Imogen Poots & Pierce Brosnan play four strangers who find themselves on the same rooftop on New Year's Eve all wanting to commit suicide. But, as you're about to see from the very first poster – life is looking up…
In other words, every friendship has its ups and downs. And, in this funny and poignant drama directed by Pascal Chaumeil, we follow an unlikely group of friends as they try to pull back from the brink.
Those friends are Brosnan's Martin – who is literally on the edge. A once-beloved TV personality, he's now desperate to jump. Then, we have Collette's single mom named Maureen, Poots as sassy teen Jess, and musician turned pizza-delivery boy JJ, played by Paul.
They have all turned up on the same roof with the same plan. But, instead of jumping, these complete strangers make a pact to stay alive and stay together until Valentine's Day at least.
Unfortunately, still nothing about the U.S. release date, although the movie is set to hit UK theaters on March 21st, 2014.
As usual – we'll keep an eye on it, so make sure you stay tuned!