Creepy Trailer & Poster For Horror Pic THE BABADOOK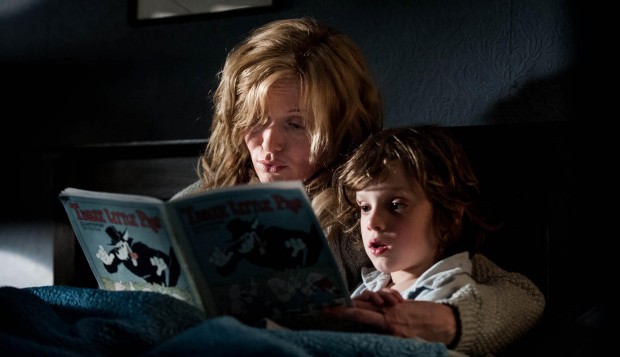 The fear of monsters is very common amongst young children, but that's about to change with the official trailer and poster for
The Babadook
, an upcoming horror thriller written and directed by Australian filmmaker
Jennifer Kent
. The movie, which premiered at this year's Sundance Film Festival, is still without a U.S. release date, but (hopefully) that will soon change… So, in this creepy new horror film, we find a single mother named Amelia who battles her son's fear of a monster in the house. However, she soon discovers a sinister presence all around her, take a look: And, in case you want to read the official synopsis:
Six years after the death of her husband, Amelia struggles to discipline her out of control 6-year-old Samuel – a son she finds difficult to love. Samuel's dreams are plagued by a monster he believes is coming to kill them both. When a disturbing storybook called The Babadook turns up at their house, Samuel is convinced that the Babdook is the creature he's been dreaming about. And when Amelia begins to see glimpses of the creature herself, it slowly dawns on her that the thing Samuel has been warning her about may well be real.
The Babadook
stars
Essie Davis
,
Noah Wiseman
,
Daniel Henshall
,
Hayley McElhinney
,
Barbara West
and
Benjamin Winspear
. Let us know what you think about the trailer & stay tuned for more horror-updates!