First Look At Ronda Rousey In FAST & FURIOUS 7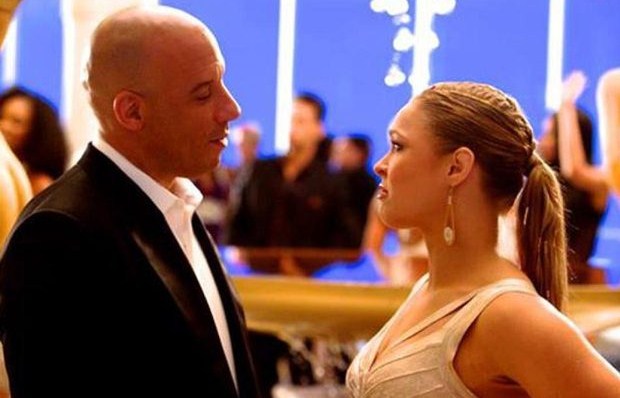 Hey Fast & Furious 7 fans, take the very first look at new-to-the-franchise lady, UFC champion Ronda Rousey! Still nothing about her involvement in the whole thing, but at least we have a brand new message from Vin Diesel, who (this time) says: "One from the set… P.s. Fast 7, making history." Head inside to take a better look at this elegant duo…
Just a quick reminder: the James Wan-directed seventh installment in the Fast and the Furious film series is already set to hit theaters on July 11th, 2014, and also stars Dwayne Johnson, Jason Statham, Michelle Rodriguez, Paul Walker, Kurt Russell, Jordana Brewster and Lucas Black.
Continuing from the cliffhanger tease at the end of Furious 6, Fast & Furious 7 is said to return the action to Los Angeles.
In other words:
After killing Owen Shaw and his crew, Dominic, Brian and their crew are able to return to the United States and live the normal life again as they had wanted. But, Owen's older brother, Ian Shaw is after Dominic, seeking revenge for the death of his brother, and after learning of Han's death, the crew sets out to kill the man who killed one of their own before he kills them first.
As usual, click on the image to enlarge & let us know what you think!