Check Out: More TV Spots For ENDER'S GAME, Opening Next Month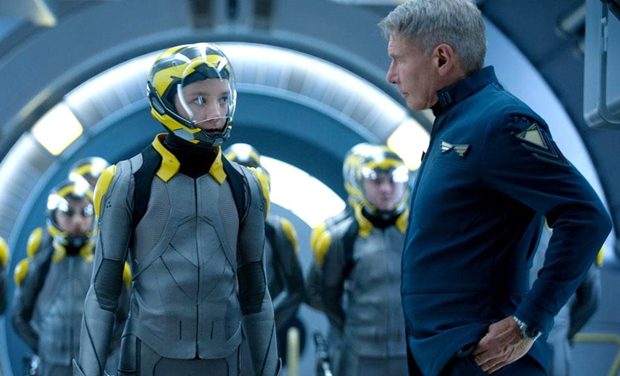 Just a quick
Ender's Game
update – two brand new TV spots for
Gavin Hood
's sci-fi adventure have arrived just in time to remind you that the movie opens in less than three weeks. Head inside to take another look at
Harrison Ford
,
Ben Kingsley
and young Ender, played by
Asa Butterfield
. The future must be won! And we must remind you that, beside the above mentioned trio, the rest of the cast includes
Hailee Steinfeld
,
Abigail Breslin
,
Viola Davis
,
Nonso Anozie
,
Stevie Ray Dillmore
and
Andrea Powell
, and that movie is set to hit theaters on November 1st, 2013. It is based on
Orson Scott Card
's bestselling novel of the same name, which is set in Earth's future and presents an imperilled mankind that has barely survived two conflicts with an insectoid alien species. If not for the legendary heroics of International Fleet Commander Mazer Rackham all would have been lost. In preparation for the next attack, the highly esteemed Colonel Hyrum Graff and the International Military are training only the best young minds to find the future Mazer. That future Mazer is:
…Ender Wiggin a shy but strategically brilliant boy, who quickly and easily masters increasingly difficult challenges and simulations, distinguishing himself and winning respect amongst his peers. He is soon ordained by Graff as the military's next great hope, resulting in his promotion to Command School. Once there, he's trained by Mazer Rackham himself to lead his fellow soldiers into an epic battle that will determine the future of Earth and save the human race.
Looks promising, hope you agree? Let us know what you think & stay tuned for even more videos!