Richard Ayoade's THE DOUBLE Reveals 2 Great Character Posters With Mia Wasikowska & Jesse Eisenberg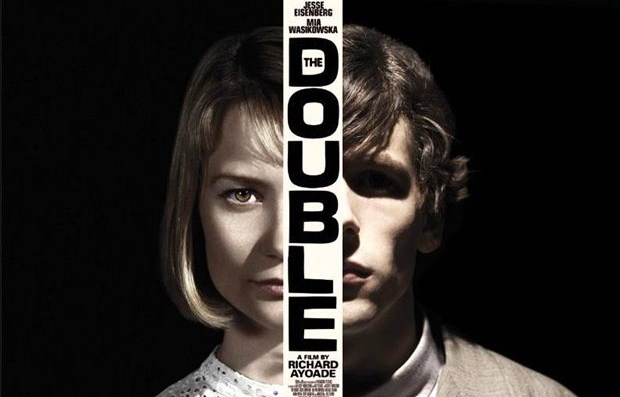 Check out these great character posters for
Richard Ayoade
's upcoming
The Double
, which stars
Jesse Eisenberg
and
Mia Wasikowska
. Based on
Fyodor Dostoyevsky
's novella of the same name, the movie will tell us the story of a man who is driven insane by the sight of his doppelgänger. Head inside to check out the leading duo & let us know what you think! Ayoade directed the whole thing from a script he co-wrote with
Avi Korine
, which centers on Eisenberg's character – a man named Simon, who goes mad after finding out his life has been usurped by a doppelgänger. Eisenberg plays both roles with complete conviction, but as Simon, he is fatally ineffectual, unable to communicate his ideas at work even when they're brilliant — and a desperate failure when it comes to the woman of his dreams, played by Wasikowska. In case you've missed the first clip, now is the perfect moment to check it out: And in case you want more details, here's the official synopsis:
Simon is a timid man, scratching out an isolated existence in an indifferent world. He is overlooked at work, scorned by his mother, and ignored by the woman of his dreams. The arrival of a new co-worker, James, serves to upset the balance. James is both Simon's exact physical double and his opposite — confident, charismatic and good with women. To Simon's horror, James slowly starts taking over his life.
The rest of the cast includes
Wallace Shawn
and
Noah Taylor
. Unfortunately, still nothing about the official release date, but as usual – we'll keep an eye on it, so make sure you stay tuned!