Sexy & Funny: UK Trailer For DOM HEMINGWAY, Starring Jude Law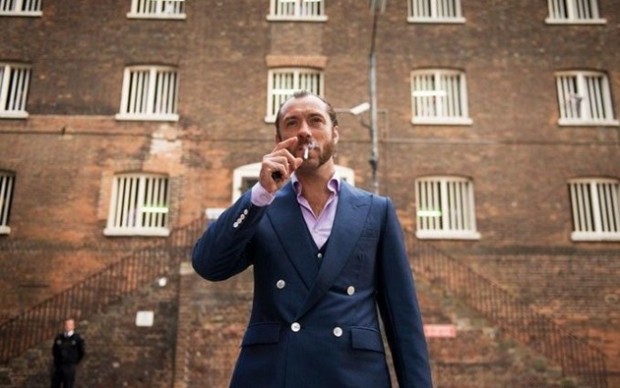 Here's one pretty cool (read: both sexy and darkly funny) trailer for
Richard Shepard
's upcoming
Dom Hemingway
, which stars
Jude Law
as funny and dangerous safecracker. After spending 12 years in prison for keeping his mouth shut, he's back on the streets of London looking to collect what he's owed, head inside to check him out… Written and directed by Shepard, this crime-comedy (which premiered at this year's Toronto International Film Festival) follows a larger-than-life safecracker named Dom Hemingway, with a loose fuse, funny, profane, and dangerous. Travelling with his devoted best friend Dickie, played by
Richard E. Grant
, he visits his crime boss Mr. Fontaine in the south of France to claim his reward, and that's exactly where the fun starts. Watch the latest trailer to see what we're talking about:
And in case you've missed the official synopsis:
A larger-than-life safecracker with a loose fuse who is funny, profane, and dangerous. After twelve years in prison, he sets off with his partner in crime Dickie looking to collect what he's owed for keeping his mouth shut and protecting his boss Mr. Fontaine. After a near death experience, Dom tries to re-connect with his estranged daughter, but is soon drawn back into the only world he knows, looking to settle the ultimate debt.
Also starring
Demian Bechir
,
Emilia Clarke
,
Madalina Ghenea
and
Kerry Condon
,
Dom Hemingway
is set to hit theaters on April 4th, 2014. Let us know what you think about the video & stay tuned for more!