ATLANTIS Trailer and Synopsis 1.02 A Girl By Any Other Name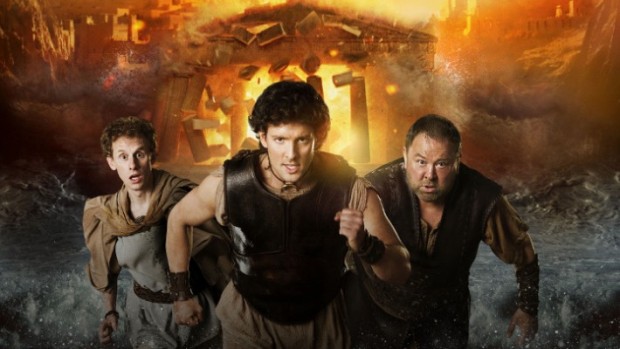 BBC has released a brand new teaser for its new TV show,
Atlantis
, which comes from creators Julian Murphy, Johnny Capps and Howard Overman. Synopsis for the second episode titled
A Girl By Any Other Name
has also been revealed. Official synopsis for the second episode of Atlantis:
Despite their newfound fame after slaying the Minotaur, the boys are still penniless and hungry. When an old man asks them to find his missing daughter, things seem on the up, but it soon becomes clear that their task will not be an easy one; she has been taken by the Maenads, fanatical worshippers of the god Dionysus. With the hopes and life of the old man fading, it is a race against time that Jason cannot turn his back on. But just when their perilous task seems at an end, he comes face-to-face with a stranger named Medusa.
Far from home and desperate for answers, Jason washes up on the shores of an ancient land. A mysterious place; a world of bull leaping, of snake haired Goddesses and palaces so vast it was said they were built by giants – this is the city of Atlantis. But under the surface of this enticing place is a dark and simmering past, a complicated web of treachery and deceit, with which Jason himself seems inexplicably bound. He soon finds himself embroiled in a perilous game of politics and power from which there is no escape. Aided by the studious young Pythagoras and the overweight, overbearing Hercules, Jason embarks on a voyage of discovery and salvation which sees him brush shoulders with Medusa, come face to face with the Minotaur and even do battle with the dead. As the series' progress, this unlikely but engaging trio will take us on a journey through the vast store of Greek myths and legends, which provide the bedrock of western literature. A treasure trove of extraordinary tales re-imagined in a thrilling and unexpected way for a new generation. The fantasy drama Atlantis stars
Mark Addy, Jemima Rooper, Juliet Stevenson, Sarah Parish, Robert Emms, Aiysha Hart
and
Jack Donnelly.