SCANDAL Teaser Trailers for Say Hello to My Little Friend 3.04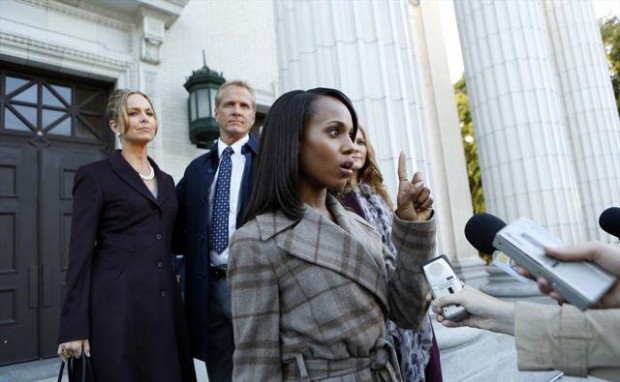 Today we have to share with you two Scandal teaser trailers for the fourth episode of the third season titled Say Hello to My Little Friend.
I'm sure you already know, but we will once again remind you that Shonda Rhimes stands behind this political drama show, which stars lovely Kerry Washington who plays Olivia Pope, a White House Communications Director who leaves to start her own crisis management firm only to discover she hasn't left the past behind.
With Pope & Associates still struggling to find clients, the team decides to take on a philandering senator who enjoys taking photos of his not so public areas. Meanwhile, Mellie gets involved in her own Scandal with Democratic Congresswoman Josephine Marcus (Lisa Kudrow)
Scandal stars Kerry Washington as Olivia Pope, Columbus Short as Harrison Wright, Guillermo Diaz as Huck, Darby Stanchfield as Abby Whelan, Katie Lowes as Quinn Perkins, Tony Goldwyn as President Fitzgerald Grant, Jeff Perry as Cyrus Beene, Bellamy Young as Mellie Grant, Joshua Malina as David Rosen and Scott Foley as Captain Jacob "Jake" Ballard.
Guest starring Lisa Kudrow as Josephine Marcus, Dan Bucatinsky as James Novak, Melora Hardin as Shelley Meyers, Patrick Fabian as Senator Richard Meyers, Patrick St. Espirit as Peter Foster, Michael B. Silver as Gavin Mitchell, Stoney Westmoreland as Hal Rimbeau, Brian Letscher as Tom, Peter Holden as William Granville and Joe Morton as Rowan.
Say Hello to My Little Friend written by Mark Fish and directed by Oliver Bokelberg airs October 24 (10:00-11:00 p.m., ET) on the ABC Television Network.