SAVING MR. BANKS Featurette, TV Spots, Clips & Images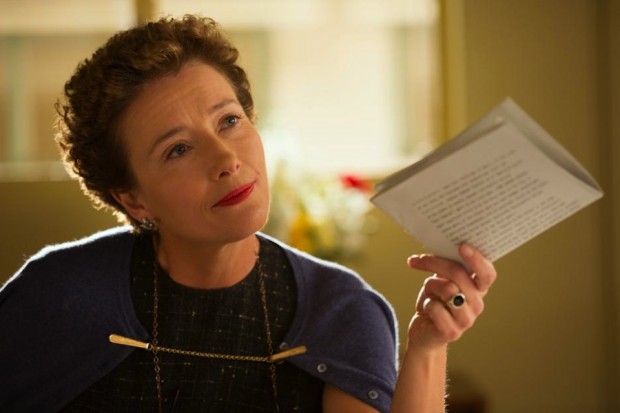 Yet another biographical drama? Hm, with all that Oscar buzz, it's easy to say that
Saving Mr. Banks
is definitely worth our full attention.
Emma Thompson
and
Tom Hanks
as P. L. Travers and Walt Disney, man that sounds serious! And it looks serious as well, so make sure you check out the rest of this report and find some great clips, featurettes, TV spots and new images… Directed by
John Lee Hancock
, the movie tells us the story of author P. L. Travers, who reflects on her difficult childhood while meeting with Disney during production for the adaptation of her novel,
Mary Poppins
.
When Travers travels from London to Hollywood in 1961 to finally discuss Disney's desire to bring her beloved character to the motion picture screen (a quest he began in the 1940s as a promise to his two daughters), Disney meets a prim, uncompromising sexagenarian not only suspect of the impresario's concept for the film, but a woman struggling with her own past. During her stay in California, Travers' reflects back on her childhood in 1906 Australia, a trying time for her family which not only molded her aspirations to write, but one that also inspired the characters in her 1934 book. None more so than the one person whom she loved and admired more than any other – her caring father, Travers Goff, a tormented banker who, before his untimely death that same year, instills the youngster with both affection and enlightenment (and would be the muse for the story's patriarch, Mr. Banks, the sole character that the famous nanny comes to aide). While reluctant to grant Disney the film rights, Travers comes to realize that the acclaimed Hollywood storyteller has his own motives for wanting to make the film—which, like the author, hints at the relationship he shared with his own father in the early 20th Century Midwest.
Also starring
Colin Farrell
,
Paul Giamatti
,
Jason Schwartzman
,
Bradley Whitford
,
Annie Rose Buckley
,
Ruth Wilson
,
B.J. Novak
,
Rachel Griffiths
and
Kathy Baker
, the movie opens in limited release on December 13th, before going wide December 20th, 2013.