New MOB CITY Teaser Trailer titled Sleeping City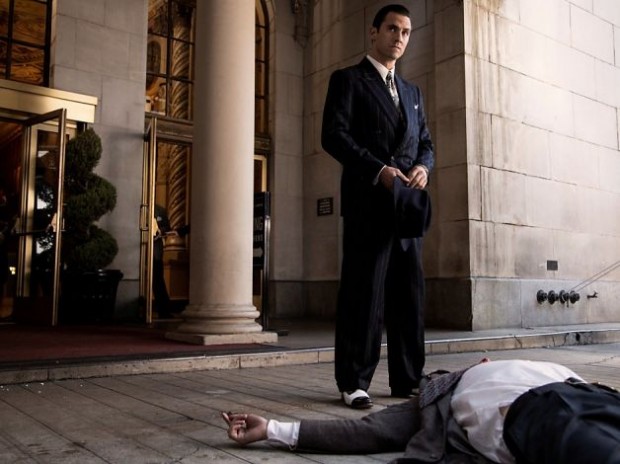 Take a look at this great new
Frank Darabont
's
Mob City
teaser trailer titled
Sleeping City
which premieres Wednesday, December 4 9/8c. Mob City revolves largely around the notorious battles between Los Angeles police and mobsters. Billed as a three-week event, Mob City is one of TNT's most ambitious series to date. The net plans to roll out two episodes a week starting Dec. 4, hoping that the condensed six-episode season will generate more buzz in a short period of time, when most of its competitors are in holiday-light mode. So, check out Mob City synopsis for the first two episodes:
Episode 1.01 – A Guy Walks Into a Bar Hecky Nash (guest star Simon Pegg) bribes police detective Joe Teague (Jon Bernthal) to protect him during a dangerous blackmail scheme involving the Los Angeles mob. Seeing this as a perfect opportunity to bring down one of the city's most infamous mobsters, the Los Angeles police force looks to Teague for key information in hopes of crippling the heart of L.A.'s organized crime. Episode 1.02 – Reason to Kill a Man Hal Morrison (Jeffrey DeMunn) and Captain William Parker (Neal McDonough) interrogate Jasmine (Alexa Davalos) in a desperate attempt to gain insight into Hecky Nash's blackmail scheme. Keeping a close eye on Jasmine, Joe discovers she's hiding a secret that could cost her her life. Meanwhile, Sid (Robert Knepper) and Terry (guest star Richard Brake) get a tip that leads to a violent display of revenge.
Jon Bernthal stars as a member of a mob task force set up by LAPD Chief William Parker (Neal McDonough), who has made it his mission to rid his city of criminals like Ben "Bugsy" Siegel (Ed Burns) and Mickey Cohen (Jeremy Luke), the ruthless king of the L.A. underworld. To accomplish his mission, Parker sets up the new task force within the LAPD headed by Det. Hal Morrison (Jeffrey DeMunn) and Det. Joe Teague (Bernthal), an ex-Marine who holds his cards close to the vest. Written and directed by Frank Darabont, based on John Buntin's L.A. Noir: The Struggle for the Soul of America's Most Seductive City, airs December 4 9/8c.