New MOB CITY Teaser Trailer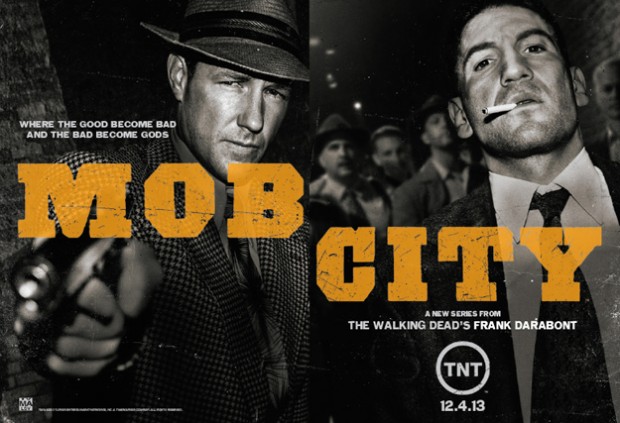 Check out this great teaser for the
Mob City
series, previously known as L.A. Noir and, more recently, Lost Angels. The six-episode of
Frank Darabont
's TNT drama is based on John Buntin's L.A. Noir: The Struggle for the Soul of America's Most Seductive City. The 1940s-set series opens in post-war L.A. where the city is caught between a powerful and corrupt police force and a criminal network determined to set up shop on the West Coast.
Jon Bernthal
stars as a member of a mob task force set up by LAPD Chief William Parker (
Neal McDonough
), who has made it his mission to rid his city of criminals like Ben "Bugsy" Siegel (
Ed Burns
) and Mickey Cohen (
Jeremy Luke
), the ruthless king of the L.A. underworld. To accomplish his mission, Parker sets up the new task force within the LAPD headed by Det. Hal Morrison (
Jeffrey DeMunn
) and Det. Joe Teague (Bernthal), an ex-Marine who holds his cards close to the vest. Here's the official synopsis:
Based on the critically acclaimed book "L.A. Noir: The Struggle for the Soul of America's Most Seductive City" by John Buntin, the story chronicles the epic battle between Los Angeles Police Chief William Parker and mobster Mickey Cohen. Alissa Phillips (Moneyball) of Michael De Luca Productions serves as co-executive producer. Darabont wrote and directed the pilot. The show, which will air on TNT and Turner networks around the world, will be distributed by TBS International outside of the United States and Canada. This new series tells the true story of a decades-long conflict between the Los Angeles Police Department, under the determined leadership of Police Chief William Parker, and ruthless criminal elements led by Mickey Cohen, a one-time boxer who rose to the top of L.A.'s criminal world. The series is a fast-paced crime drama set in Los Angeles during the 1940s and '50s. It's a world of glamorous movie stars, powerful studio heads, returning war heroes, a powerful and corrupt police force and an even more dangerous criminal network determined to make L.A. its West Coast base. The new drama stars Jon Bernthal ("The Walking Dead") as Joe Teague, an ex-Marine now working as an LAPD cop in an era rampant with police corruption. Jeffrey DeMunn ("The Walking Dead," The Shawshank Redemption) plays Det. Hal Morrison, who heads up the LAPD's new mob squad, with Jeremy Strong (The Happening, Lincoln) as Det. Mike Hendry, Morrison's second in command. Neal McDonough (Captain America, "Desperate Housewives") is Capt. William Parker, Teague's boss who is determined to weed out corruption and bring down Mickey Cohen. And Milo Ventimiglia ("Heroes") plays Ned Stax, who fought alongside Teague during World War II but who now works as a lawyer with connections to the mob. The series also stars Ron Rifkin ("Alias," L.A. Confidential) as Los Angeles Mayor Fletcher Bowron, who makes it his mission to clean up corruption in city government; Pihla Viitala ("Tears of April") as Anya, the head bartender at Bunny's on Central Avenue, the West Coast center of the African-American jazz scene; and Alexa Davalos (Clash of the Titans, The Mist) as Jasmine, a beautiful woman whose past has come back to haunt her. In the pilot, Simon Pegg (Star Trek, Shaun of the Dead) guest-stars as Hecky Nash, a third-rate comedian and mob hanger-on.
The show which also stars
Gregory Itzin, Robert Knepper, Milo Ventimiglia
and
Alexa Davalos
will air Wednesday, Dec. 4, at 10 p.m.