New Trailer For LAST VEGAS, Starring Michael Douglas, Robert De Niro, Morgan Freeman & Kevin Kline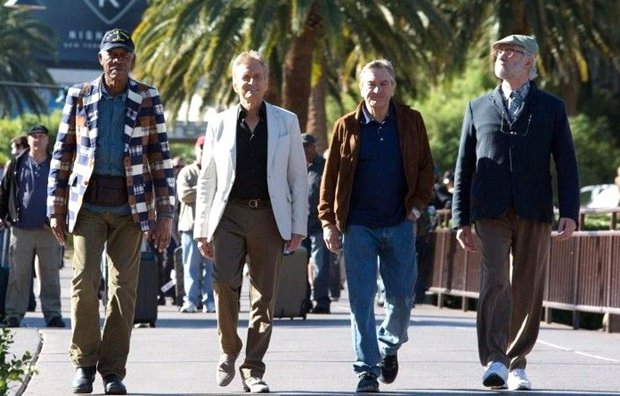 Here's a brand new trailer for the upcoming buddy comedy
Last Vegas
, which is set to hit theaters next month. Nothing spectacular, just another reminder that this November, it's going to be legendary bachelor party. Head inside to take a much better look at Billy, Paddy, Sam and Archie, they are definitely ready to… well, party, what else!
Jon Turtletaub
directed the movie from a scrpt written by
Dan Fogelman
and
Adam Brooks
, which revolves around four best friends in their late sixties who decide to have a bachelor party in Las Vegas. Those friends are
Michael Douglas
aka Billy,
Robert De Niro
aka Paddy,
Morgan Freeman
aka Archie, and
Kevin Kline
aka Sam. Check them out: And check out the official synopsis:
When Billy, the group's sworn bachelor, finally proposes to his thirty-something girlfriend, the four head to Las Vegas with a plan to stop acting their age and relive their glory days. However, upon arriving, the four quickly realize that the decades have transformed Sin City and tested their friendship in ways they never imagined. The Rat Pack may have once played the Sands and Cirque du Soleil may now rule the Strip, but it's these four who are taking over Vegas.
Also starring
Mary Steenburgen
,
Jerry Ferrara
,
Weronika Rosati
and
50 Cent
,
Last Vegas
is set to hit theaters on November 1st, 2013.