Jason Statham Is One Brave Father In The First Trailer For HOMEFRONT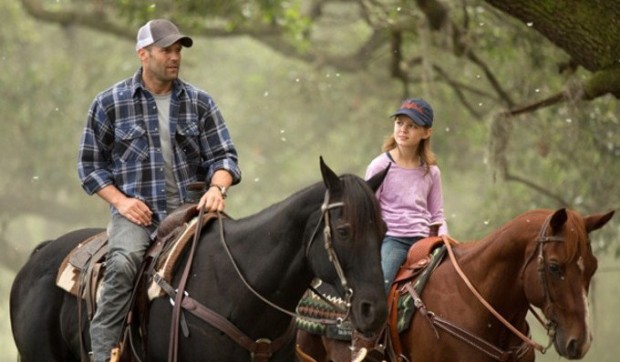 Two days ago we shared the official
pics and poster
for the upcoming
Homefront
movie, now we're back with the very first theatrical trailer for the whole thing. And ok, maybe it's yet another action thriller with
Jason Statham
(here he comes to save the day!) but it actually doesn't look bad at all. So, here's what we have for you today: Statham is one brave father,
James Franco
is a bad guy, head inside to check them out… Written by
Sylvester Stallone
and directed by
Gary Fleder
, the movie tells the story of a widowed ex-DEA agent, played by Statham, who retires to a small town for the sake of his 10-year-old daughter, played by young (and pretty cute)
Izabela Vidovic
. But, as we previously reported, this brave father obviously picked the wrong town, and here's what it looks like:
And here's more details:
Phil Broker and his family moved to tiny Glacier Falls to heal from the psychological wounds they received while helping to avert an inhuman act of terror. But young Kit chose the wrong adversary when she triumphed over local schoolyard bully Teddy Klumpe, for the boy's disreputable clan does unholy business from the darkest shadows of their small town, and they do not forgive. What begins as a minor feud between neighbors quickly escalates into a major offensive of intimidation, destruction, fear…and death.
Also starring
Winona Ryder
,
Kate Bosworth
and
Frank Gillo
,
Homefront
is set to hit theaters on November 27th, 2013.