BAD GRANDPA Reveals Another Poster With Johnny Knoxville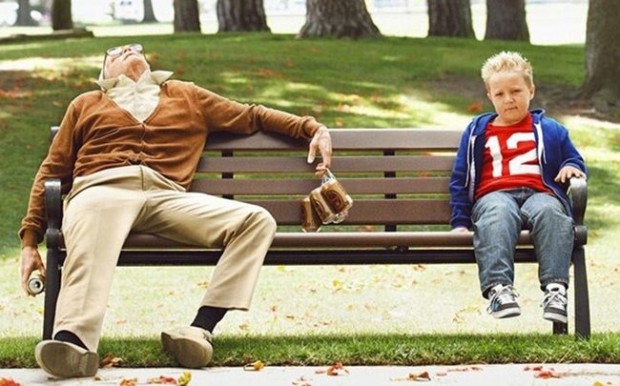 Real people in unreal situations – that' exactly what the upcoming
Bad Grandpa
movie is all about! The good thing is that
Jeff Tremaine
' so-called messed up comedy opens this month, so we definitely recommend you to check out the latest poster with
Johnny Knoxville
and his little friend played by
Jackson Nicholl
. Time for Irving Zisman to take a little nap… Written and directed by Tremaine, the movie revolves around Knoxville' character, 86-year-old Irving Zisman who is on a journey across America with the most unlikely companion, his 8-year-old grandson Billy, They will take us on the most insane hidden camera road trip ever captured on camera, and in case you've missed the official trailer, now is your perfect chance to check it out: And here's the rest of the plot:
Along the way, Irving will introduce the young and impressionable Billy to people, places and situations that give new meaning to the term childrearing. The duo will encounter male strippers, disgruntled child beauty pageant contestants (and their equally disgruntled mothers), funeral home mourners, biker bar patrons and a whole lot of unsuspecting citizens.
Also starring
Bam Margera
,
Steve-O
,
Chris Pontius
,
Preston Lacy
,
Dave England
and
Ehren McGhehey
,
Jackass Presents: Bad Grandpa
opens on October 25th, 2013. Click on the poster to enlarge & stay tuned for even more updates!