Bigger, Better, Burgundy-er: New ANCHORMAN 2: THE LEGEND CONTINUES TV Spot Has Arrived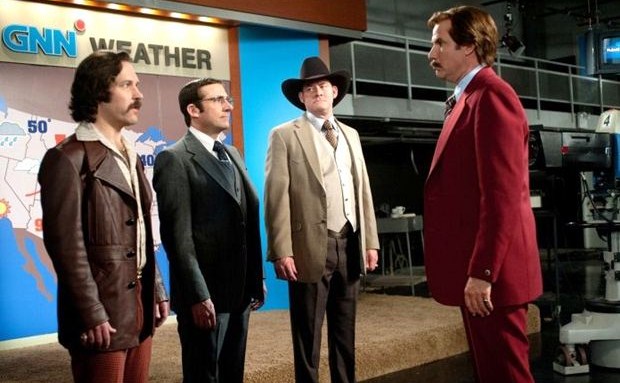 The latest TV spot for
Anchorman 2: The Legend Continues
has arrived just in time to remind you that this December – everything is bigger, better and… well, Burgundy-er! Head inside to find the video and take another look at
Will Ferrell
,
Steve Carell
,
David Koechner
,
Paul Rudd
and
Kristen Wiig
…
Adam McKay
's sequel to the 2004 film
Anchorman: The Legend of Ron Burgundy
, once again revolves around San Diego's top rated newsman, Ron Burgundy, played by Ferrell. After the 1970s brought prosperity to the Channel 4 news team, the group disbands and hits rock bottom until a 24-hour news channel is being put together and the group is recruited to join the channel. Or, if you prefer the official synopsis:
San Diego's top rated newsman, Ron Burgundy, returns to the news desk. Also back for more are Ron's co-anchor and wife, Veronica Corningstone, weather man Brick Tamland, man on the street Brian Fantana and sports guy Champ Kind – All of whom won't make it easy to stay classy…while taking the nation's first 24-hour news channel by storm.
Also starring
Christina Applegate
,
James Marsden
,
Dylan Baker
,
Meagan Good
,
Harrison Ford
,
Greg Kinnear
,
Josh Lawson
,
Vince Vaughn
,
Luke Wilson
and
Nicole Kidman
,
Anchorman 2: The Legend Continues
opens on December 20th, 2013.