2 REIGN Clips from Inquisition 1.11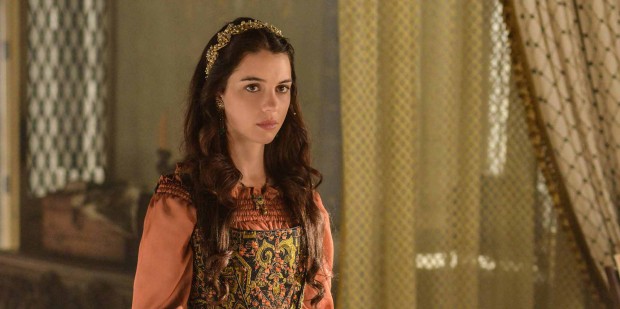 I'm sure that Reign fans can't wait to see the next episode of this show. What will happen to Mary and Queen Catherine? Watch these clips and try to guess.
So, the eleventh episode of Reign titled Inquisition will be exciting for sure.
Here's the synopsis for the episode:
When King Henry (Alan Van Sprang) accuses Queen Catherine (Megan Follows) of treason and adultery, she sets out to save her life by exposing Bash's (Torrance Coombs) dark past. Mary (Adelaide Kane) and Bash go on a quest to expose an even more deadly secret from Catherine's past. Meanwhile, Nostradamus (guest star Rossif Sutherland) reveals the truth about the castle ghost, Clarissa (guest star Katie Boland), which shocks everyone.
Your favorite show, Reign, Inquisition 1.11, directed by Mike Rohl and written by Doris Egan airs February 6th (9:00-10:00 p.m. ET) (TV-14, V) (HDTV).