First Image From WORDS AND PICTURES, Starring Clive Owen and Juliette Binoche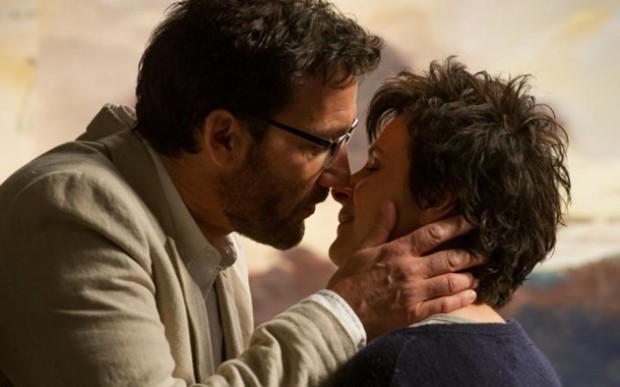 The Word or the Picture, which is more powerful? Guess we'll soon find that out 'cause Roadside Attractions has acquired US rights to Fred Schepisi's adult romance Words and Pictures. The movie had it's world premiere at this year's TIFF, and as you already see from our title – today we're here to share the very first image with great Clive Owen and Juliette Binoche. Head inside to check them out and find more details about this so-called 'charming' film…
Schepisi directed the movie from a script written by Gerald Di Pego, which revolves around two teachers who change the lives of both their students and each other with their passions for learning, life and the arts.
In other words, Owen plays Jack Marcus, a writer whose talent has dried up, while Binoche stars as an artist named Dina Delsanto who's struggling to paint as her body betrays her.
They clash at the school where they teach, sparking both a flamboyant courtship and a school-wide war: which is more powerful, the Word or the Picture?
The film is produced by Latitude Productions' Curtis Burch in association with Dallas-based Lascaux Films. Nancy Rae Stone serves as executive producer.
The deal was negotiated by Roadside's Cohen and CAA on behalf of the filmmakers. Voltage Pictures is handling international rights to the film and presented the project to buyers at the Toronto International Film Festival.
Don't forget to click on the image to take a better look at Owen and Binoche, and make sure you stay tuned for more Words and Pictures updates!