THE TRIP TO ITALY Clip: Wine And Dine With Steve Coogan & Rob Brydon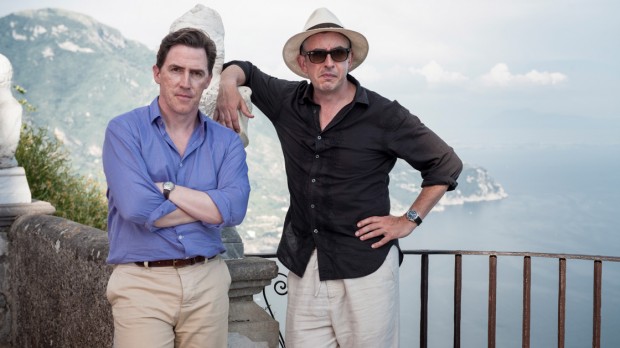 Wine and dine – that's pretty much all you're going to see from the upcoming The Trip To Italy movie, which is set to hit theaters this May. Just kidding, that's definitely not all! Thanks to Steve Coogan and Rob Brydon, who are back for more delectable food, some sharp-elbowed rivalry, and plenty of laughs. Head inside to check them out…
In other words, director Michael Winterbottom reunites these two (hilarious) guys who (this time) set out on a gastronomic tour of Italy where they wine, dine and take the piss out of each other.
Here's the very first clip from the movie, where they discuss The Dark Knight Rises, and who is less understandable – Tom Hardy as Bane or Christian Bale as Batman:
For those who want more details about the movie:
Michael Winterbottom's largely improvised 2010 film, The Trip, took comedians Steve Coogan and Rob Brydon—or semifictionalized versions thereof – on a restaurant tour aroundnorthern England. In this witty and incisive follow-up, Winterbottom reunites the pair for a new culinary road trip, retracing the steps of the Romantic poets' grand tour of Italy and indulging in some sparkling banter and impersonation-offs. Rewhetting our palates from the earlier film, the characters enjoy mouthwatering meals in gorgeous settings from Liguria to Capri while riffing on subjects as varied as Batman's vocal register, the artistic merits of "Jagged Little Pill," and, of course, the virtue of sequels.
The Trip To Italy hits limited theaters on May 16th, 2014.