Teaser Trailer For THE FACE OF AN ANGEL, Starring Kate Beckinsale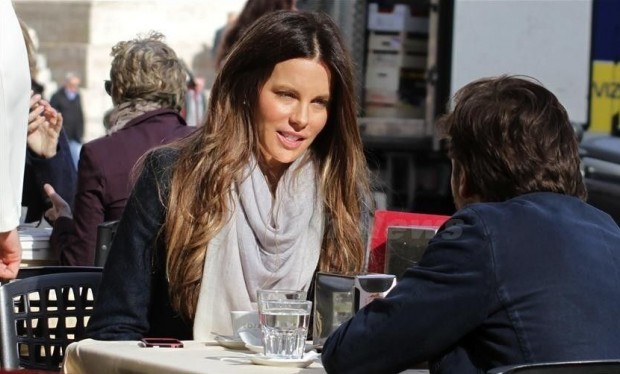 Remember that psychological thriller
The Face of an Angel
? Yep, the one that is inspired by the Amanda Knox case, and stars
Kate Beckinsale
,
Daniel Bruhl
and
Cara Delevingne
. That one. Guess what, today we're here to give you the very first teaser trailer for the whole thing! Head inside to check out a journey beyond the truth… In case you're not so familiar with the project, let us first inform you that the whole thing is directed by
Michael Winterbottom
, and is described a fictionalized adaptation of
Barbie Latza Nadeau
's book
Angel Face: Sex, Murder and the Inside Story of Amanda Knox
. The movie centers on the tragic story of the 2007 murder of British student Meredith Kercher in Umbria, Italy, and ensuing media circus as a springboard for a wider investigation of society's fascination with violence. Or, in case you want to read the synopsis:
The murder of a British student in Tuscany leads to the trial and conviction of her American flat mate and Italian boyfriend in controversial circumstances. The public interest around the case attracts once successful, but now struggling filmmaker Thomas (Bruhl), to be commissioned to write a film, "The Face of an Angel," based on a book by Simone Ford (Beckinsale), an American journalist who covered the case. From Rome they head to Siena to research the film. Thomas has also recently separated from his wife in a bitter divorce and left his 9-year-old daughter in Los Angeles. As his life unravels, he becomes increasingly disturbed by the dark medieval atmosphere surrounding the case and begins to fall into his own personal hell. Just as Thomas is about to hit rock bottom, he meets British student Melanie (Delevingne), with whom he begins an innocent relationship. This is a beautiful, unrequited love where Melanie provides solace to him and acts as a guide to his own heart. Thomas starts to question what is more important to him, solving an unsolvable crime and writing the film, or returning back to the daughter he has left behind.
Let us know what you think about the teaser & stay tuned for more updates!