FLEMING: THE MAN WHO WOULD BE BOND Teaser Trailer for 2nd Episode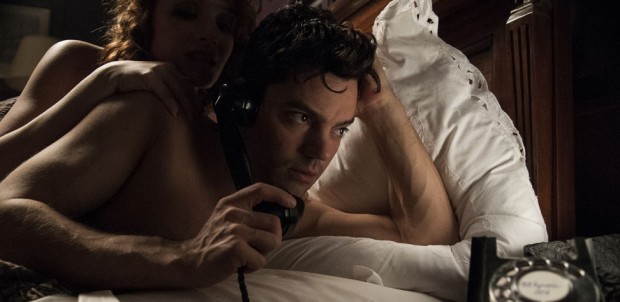 Fleming,
Ian Fleming
. I'm sure you know I'm talking about the author who create one of the coolest and most memorable characters – James Bond. Yes, Bond is a fiction, and I don't know about you, but I'm sure his novels aren't pure fiction. Keep in mind that Fleming had his life experience working in British Naval Intelligence. Ok, now, we're here to talk about the show/mini-series which will probably open many questions about his real life, and that's BBC's
Fleming: The Man Who Would Be Bond
. Here's what
Dominic Cooper
who has that honor to play Fleming had to say about this:
"If you go back and look at some of the oldest ones, you couldn't do what Bond did then now. It would seem wrong. A lot of Ian Fleming's ideas would feel out of place, so tonally, this had to be tongue-in-cheek in many aspects. At the same time, it also had to be about what really did happen. People are interested in who the creator of this incredible hero was… Close to the end of the piece, someone asks Fleming if these things really happened. And he says, 'Well, some of it's true … but it was a damned good story, wasn't it?' I think that's how he lived his life. The story was more important than the accuracy in many ways."
Ok, now, here are the trailer and synopsis for the second episode of Fleming: The Man Who Would Be Bond which airs February 5th, 2014.
A mischievous Ann invites Fleming to Esmond's birthday party, and although Fleming has brought Muriel as his date, sexual chemistry sizzles between them. Meanwhile, France is looking like it's about to crumble against Nazi forces. Office bound and desperate to be a man of action, Fleming urgently tries to persuade Godfrey to send him to France to oversee the destruction of secret files at one of their bureaus. To his surprise, Godfrey accepts. Fleming sets-off on his mission, but when unexpected obstacles arise, how will he handle the dangerous consequences?
Also starring
Lara Pulver
as Ann O'Neill, "the love of his life" according to Fleming's official bio,
Annabelle Wallis
,
Lesley Manville, Anna Chancellor
and
Samuel West
.