CLOUDY WITH A CHANCE OF MEATBALLS 2 Reveals 3 New Clips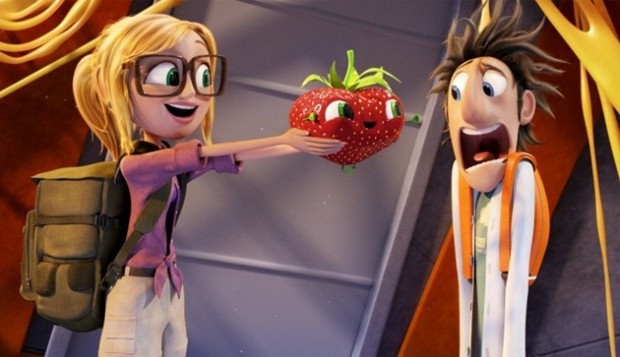 I'm sure you already know that
Cloudy with a Chance of Meatballs 2
opens this month, and that's exactly why we want you to take another look at Flint and his friends (and enemies!) In case you forgot, this time he learns that his most infamous machine is still operational and is churning out menacing food-animal hybrids. Both funny and spooky, head inside to find the videos…
Directed by
Cody Cameron
and
Kris Pearn
, the sequel to the 2009 film
Cloudy with a Chance of Meatballs
, picks up where Sony Pictures Animation's mouth-watering comedy left off. It stars
Bill Hader
as inventor Flint Lockwood who thought he saved the world when he destroyed his most infamous invention – a machine that turned water into food causing cheeseburger rain and spaghetti tornadoes.
Unfortunately, things go messy when:
…Flint learns that his invention survived and is now creating food-animals – "foodimals! Flint and his friends embark on a dangerously delicious mission to battle hungry tacodiles, shrimpanzees, hippotatomuses, cheespiders and other foodimals to save the world – again!
Also starring
Anna Faris
,
James Caan
,
Will Forte
,
Andy Samberg
,
Benjamin Bratt
,
Neil Patrick Harris
,
Terry Crews
and
Kristen Schaal
,
Cloudy with a Chance of Meatballs 2
is set to hit theaters on September 27th, 2013. So, looks good or what?