BIG GAME Adds More Cast, First Pic With Samuel L. Jackson Revealed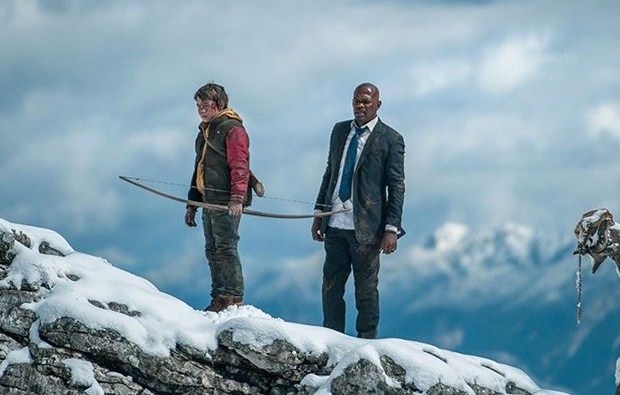 Check out the first official pic from
Jalmari Helander
's upcoming
Big Game
, which stars
Samuel L. Jackson
as the President of the United States, and young
Onni Tommila
as a teenager camping in the woods who rescues him when Air Force One is shot down near his campsite. In addition to the very first image, the movie adds three new cast members –
Felicity Huffman
,
Victor Garber
and
Ted Levine
. The trio joins Jackson, Tommila,
Ray Stevenson
,
Jim Broadbent
and
Mehmet Kurtulus
in a movie which centers on a shy, nervous 13-year old boy named Oskari, who takes a test of manhood by spending one day and one night alone in the wilderness of a vast local forest. Armed only with a bow and arrow, his task is to return with a prize to prove himself. But this is no ordinary night…
Air Force One is shot down by terrorists and Oskari discovers the President of the United States in an escape pod. Now the fate of the most powerful man in the world lies in his hands. With the terrorists closing in, Oskari and the President must team up to survive the most extraordinary 24 hours of their lives.
Helander directed this adrenaline-fuelled action-adventure from his own script, and
Big Game
has shot for eight weeks on locations across Bavaria and at Bavaria Film Studios. A release date has not yet been set, but – as usual, we'll keep an eye on it, so make sure you stay tuned!