Watch: First Clip From ASS BACKWARDS, Opening Next Month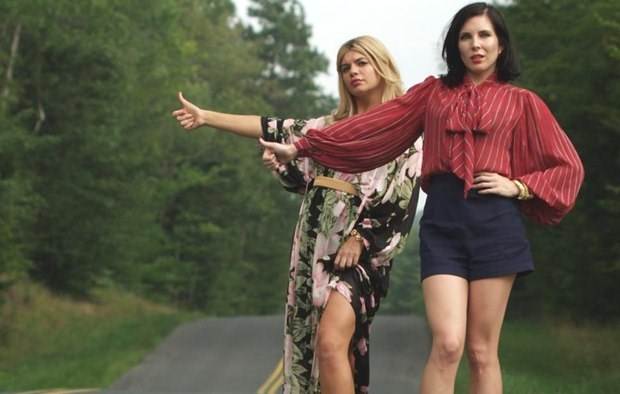 Check out the very first clip from the upcoming buddy comedy
Ass Backwards
, which is set to hit theaters next month. Starring
June Diane Raphael
and
Casey Wilson
, the movie tells the story of two best friends (read: loveable losers) with a not so firm grip on reality. Cute girls, that's for sure, head inside to take a look… Written by Wilson and Raphael, and directed by
Chris Nelson
, the movie follows Kate and Chloe who embark on a cross country trip back to their hometown to attempt to win a pageant that eluded them as children. In other words, Raphael is Kate and Wilson is Chloe, and they are two childhood best friends living in New York City, where Chloe works as a "girl in a box" at a nightclub and Kate is a CEO of her own one-woman egg donor "corporation." Here's that clip: And here's the rest of the plot:
Lost in delusion, they believe they are living large until an invitation to their hometown pageant arrives and their past comes back to haunt them. Join these two loveable losers as they take an ass backwards journey home to reclaim their crown, stopping off at a women's separatist commune, an amateur strip club competition, and meeting their favorite reality TV star along the way.
Also starring
Alicia Silverstone
,
Jon Cryer
,
Vincent D'Onofrio
,
Brian Geraghty
,
Bob Odenkirk
,
Paul Scheer
and
Sandy Martin
,
Ass Backwards
is set to hit (limited) theaters on November 8th, 2013. Let us know what you think about the video & stay tuned for more comedy-updates!