Trailer & Poster For CESAR CHAVEZ, Starring Michael Pena & Rosario Dawson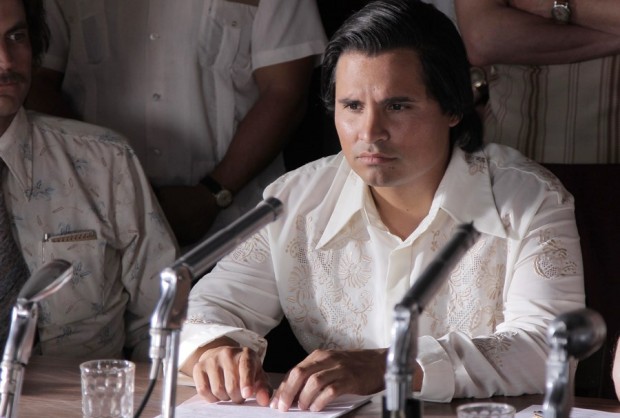 Mexican actor & director
Diego Luna
says that his upcoming film
Cesar Chavez
is actually an American story. Or, as he explained – it's the story of "a community that works and feeds America". And we're here to present the official trailer and poster for this great-looking biopic which hits limited theaters in March, hope you'll enjoy… Luna directed the whole thing from a script written by
Keir Pearson
and
Timothy J. Sexton
, which focuses on the famed civil rights leader, played by
Michael Pena
, who co-founded the United Farm Workers. In other words, the movie will tell us the story of a well-known labor organizer torn between his duties as a husband and father, and his commitment to securing a living wage for farm workers. Check him out:
Passionate but soft-spoken, Chavez embraced non-violence as he battled greed and prejudice in his struggle to bring dignity to people. Chavez inspired millions of Americans from all walks of life who never worked on a farm to fight for social justice. His triumphant journey is a remarkable testament to the power of one individual's ability to change the world.
Also starring
Rosario Dawson
,
America Ferrera
,
Jacob Vargas
,
Yancey Arias
,
Wes Bentley
,
John Ortoz
and
John Malkovich
, the movie opens in limited theaters on March 28th, 2014.