Your Pain Is Her Pleasure: NURSE 3D Reveals New Poster (And Release Date)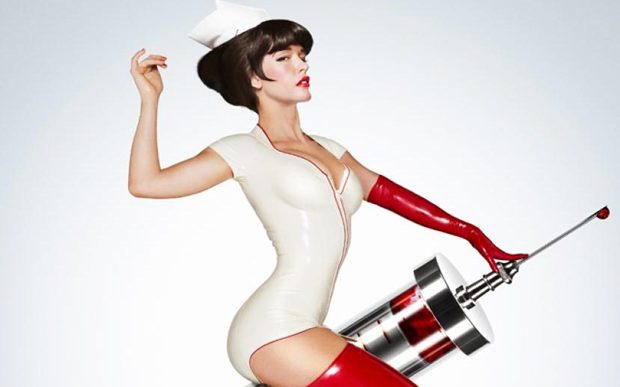 Check out the official poster for
Doug Aarniokoski
's upcoming horror thriller
Nurse 3D
, which is (finally) set to hit limited theaters this February. Starring
Paz De La Huerta
, the movie revolves around a dedicated nurse who uses her sexuality to lure cheating men to their brutal deaths. Your paing is her pleasure, head inside to check her out… Aarniokoski directed the whole thing from a script written by
David Loughery
, which follows a beautiful dedicated nurse named Abby Russell, with a sinister side! In other words, she is a dedicated nurse during the day, but by night her true side comes out – she uses her sexuality to lure cheating men to their brutal deaths. Or, if you prefer the official synopsis:
By day Abby Russell is a dedicated nurse, someone you wouldn't hesitate to trust your life with. But by night, her real work begins…using her smoldering sexuality she lures cheating men to their brutal deaths and exposes them for who they really are. When a younger nurse starts to suspect Abby's actions and compromises her master plan, Abby must find a way to outsmart her long enough to bring the cheater you'd least expect to justice…
Also starring
Katrina Bowden
,
Corbin Bleu
,
Adam Herschman
and
Neal McDonough
,
Nurse 3D
is set to hit theaters on February 7th, 2014.