M. Night Shyamalan's WAYWARD PINES First Look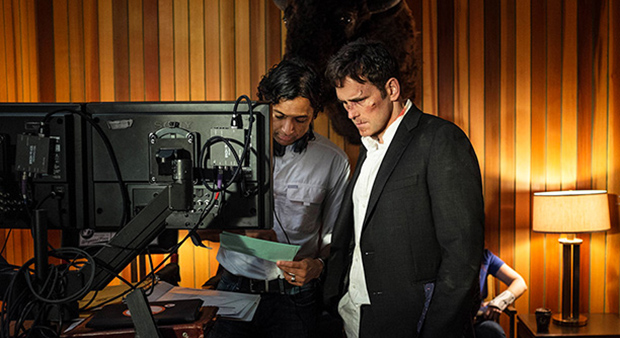 Entertainment Weekly scored the first photo of
Wayward Pines
where we can see
M. Night Shyamalan
directing
Matt Dillon
on the set. 10-episode drama, based on Blake Crouch's best-selling novel of the same name, is an intense, mind-bending thriller evocative of the classic cult hit Twin Peaks. We will remind you that Dillon is set to play agent Ethan Burke who arrives in an Idaho town in search to two missing agents. His investigation leads to even more questions, as he comes to grips with the terrifying reality that he actually may never be able get out of this countryside locale alive.
Melissa Leo
is also starring as Nurse Pam, who first takes care of Ethan when he wakes up in the Wayward Pines hospital.
Terrence Howard
will play the series regular role of Sheriff Pope, who takes offense at a Secret Service agent showing up on his turf and telling him what to do. Ethan believes Sheriff is out of his mind, but Sheriff thinks the same of Ethan. And finally,
Shannyn Sossamon
will play Theresa Burke, Ethan's wife, who met Ethan when she was a trainee in the Secret Service, left the Service to raise their son Ben. "When I read Chad's [Hodge] script I immediately thought: Gosh, I know how to do this," he says. "It struck me as having a Twin Peaks-y vibe. David Lynch's achievement with that show – especially in the pilot – was some super audacious filming. It's the kind of thing where you have these quirky over-the-top performances that are still resonant. He balanced that line in a way only he could to. So when I read Wayward Pines, I found that same mix of humor I've been dying to do," said Shyamalan on inspiration for his TV debut.