Watch: Stallone vs. De Niro In The First Trailer For GRUDGE MATCH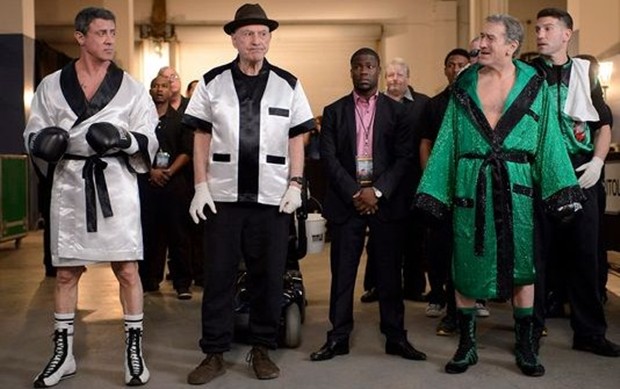 Robert De Niro
and
Sylvester Stallone
are funny as hell in the first trailer for their upcoming
Grudge Match
! Yes, this so-called sports comedy definitely looks promising and that's exactly what you're going to see in the rest of this report: two aging boxing rivals coaxed out of retirement to fight one final match… 50 years after their last title fight! Looks good, or what? Let me just remind you that
Peter Segal
directed the whole thing from a script written by
Doug Ellin
,
Tim Kelleher
and
Bill Gerber
, which follows lifelong bitter rivals who are coaxed out of retirement and into the ring for one final grudge match. In other words, De Niro plays Billy 'The Kid' McDonnen, Stallone is Henry 'Razor' Sharp, and the rest of the cast includes
Kevin Hart
,
Kim Basinger
and
Alan Arkin
. But, in case you want more details:
Two retired boxers have a thirty years old grudge which hasn't subsided yet. It revolves around the fact that that Razor had retired the night before the match for the title thus destroying both of their careers. Now they have an opportunity to get the score even with one last match, in which they both have their respective interest to participate in, but the one in common is getting the score even. However it will be hard to keep calm with all the popularity the match got with social networks and with the training they both gave up long ago.
Grudge Match
is set to hit theaters on December 25th, 2013.