First THANKS FOR SHARING Clip and Posters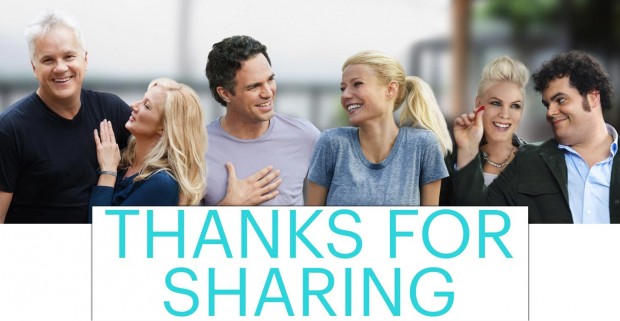 See the first clip and posters for Thanks for Sharing, the upcoming sex addict comedy/drama about three people who go through a 12 step program for sex addiction!
The film, directed by Stuart Blumberg, stars Mark Ruffalo, Tim Robbins, Gwyneth Paltrow, Joely Richardson, Patrick Fugit, Josh Gad, and Alecia Moore.
Paltrow said:
There's a line in the movie where somebody says something like, 'Isn't sex addiction just an excuse men use when they get caught cheating?' But actually, it is a real pathology … It was interesting to learn about it, see what the behavior is and what causes it, and how people are sober. It was very interesting. I learned a lot.
Thanks for Sharing hits theatres on September 20th, 2013. Here's the clip for Thanks For Sharing. Plot summary:
Thanks for Sharing is a touching and unpredictable comedy that follows three sex addicts as they struggle to function in society while maintaining meaningful relationships. Along the way, Adam (Ruffalo) attempts to forge a relationship with Phoebe (Paltrow), a wildly independent and beautiful woman who has sworn off dating addicts after breaking up with an alcoholic. Mike (Robbins) is married to his high school sweetheart, but becomes as addicted to his 12 step recovery program as he does to sex. Neil (Gad), on the other hand, hides a camera on his tennis shoe to secretly film up women's skirts – all while trying to convince his friends that he can live a life without sex. Throughout the film, they each deal with their addictions in different and hilarious ways in this unusual and sweet comedy.