FILTH Poster Featuring James McAvoy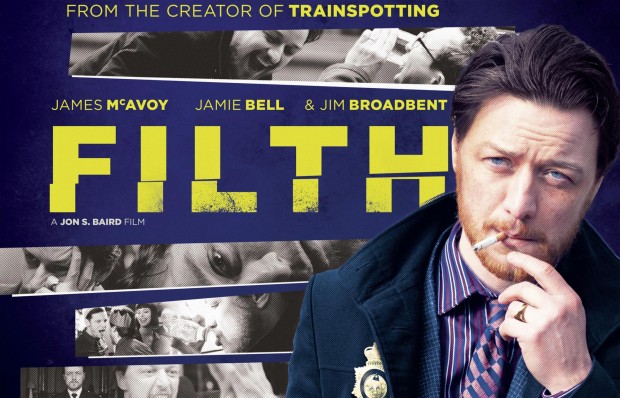 Check out the poster for the upcoming dark comedy Filth. The movie is about a bipolar, bigoted junkie cop Bruce Robertson (James McAvoy) who manipulates and hallucinates his way through the festive season in a bid to secure promotion and win back his wife and daughter.
The film is based on the book by Irvine Walsh and also stars Jamie Bell, Jim Broadbent, Joanne Froggatt and Imogen Poots.
Here's the first NSFW UK trailer:
Synopsis for Filth
Scheming Bruce Robertson (James McAvoy), a bigoted and corrupt policeman, is in line for a promotion and will stop at nothing to get what he wants. Enlisted to solve a brutal murder and threatened by the aspirations of his colleagues, including Ray Lennox (Jamie Bell), Bruce sets about ensuring their ruin, right under the nose of unwitting Chief Inspector Toal. As he turns his colleagues against one another by stealing their wives and exposing their secrets, Bruce starts to lose himself in a web of deceit that he can no longer control. His past is slowly catching up with him, and a missing wife, a crippling drug habit and suspicious colleagues start to take their toll on his sanity. The question is: can he keep his grip on reality long enough to disentangle himself from the filth?
Filth, directed by Jon S. Baird who co-wrote the script with Welsh, opens in Scotland on September 27, and UK on October 4th 2013. US release date is still to be decided.