Showtime Renews MASTERS OF SEX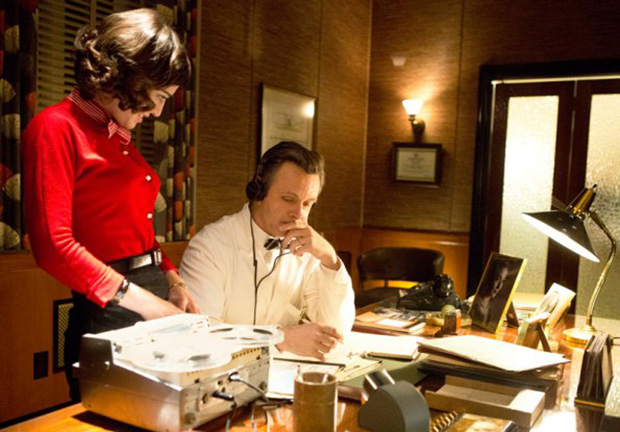 Showtime has picked up a second season of the critically-acclaimed drama Masters of Sex.
The show is set to return in 2014 with 12 one-hour episodes at 10 p.m. ET/PT on Showtime. The announcement was made today by David Nevins, President of Entertainment, Showtime Networks Inc.
"The critical and audience reaction to 'Masters of Sex' since its great launch has been incredibly gratifying. It's a privilege to get to work with such talented and creative people as ('Homeland' showrunner) Alex Gansa and ('Masters' showrunner) Michelle Ashford, as well as their tremendous casts. They have each created truly original shows, with distinctive voices that are among the most admired series on television," Nevins said.
Masters of Sex currently averages 5.4 million weekly viewers in its freshman season. The series stars Michael Sheen and Lizzy Caplan, who portray real-life human sexuality pioneers, William Masters and Virginia Johnson.
The series chronicles their unusual lives, romance and pop culture trajectory. The show is an adaptation of Thomas Maier's book "Masters of Sex: The Life and Times of William Masters and Virginia Johnson, The Couple Who Taught America How To Love."
The pilot episode was directed by John Madden, who also serves as executive producer. The series also stars Caitlin Fitzgerald in the role of Masters' wife, Nicholas D'Agosto and Teddy Sears. Beau Bridges and Margo Martindale also appear.
Masters of Sex was created and executive produced by Michelle Ashford. The series is executive produced by Timberman Beverly Productions' Carl Beverly and Sarah Timberman, and Judith Verno. Michael Sheen and Tammy Rosen serve as producers. Masters of Sex is produced by Sony Pictures Television.