INTERSTELLAR Logo Revealed, Trailer Coming Soon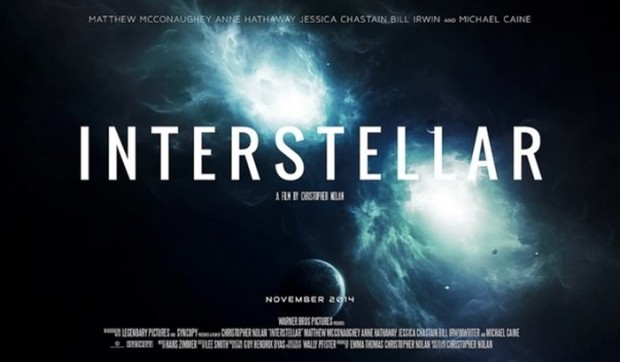 So, here comes the official logo for
Christopher Nolan
's upcoming
Interstellar
, which is currently set to hit theaters on November 7th, 2014. As usual, you can find the larger version of the logo at the end of this report, and we will right here at the beginning add that the movie now has an
official website
,
Twitter
and
Facebook
page, so make sure you take a look. Another important thing is that the first trailer for
Interstellar
will be released theatrically with
The Hobbit: The Desolation of Smaug
, and (according to
ComicBook
) it starts off with clips from various old space missions, while
Matthew McConaughey
's character Cooper provides narration about the world's need for exploration. They also add:
The footage from the actual film shows a closeup of Cooper's face as he is driving. There is a flash of the gas tank of a beat-up, faded blue truck. There is also a flash of a child grabbing an adult's hand, as the two stand in a cornfield and look up at a rocket blasting away in the sky. In a voiceover, Cooper says, "And that our greatest accomplishments cannot be behind us, because our destiny lies above us."
Hm, sounds interesting. Anyway, we will once again remind you that Nolan directs the whole thing from a script written by his brother
Jonathan Nolan
, which chronicles the adventures of a group of explorers who make use of a newly discovered wormhole to surpass the limitations on human space travel and conquer the vast distances involved in an interstellar voyage. Beside McConaughey, the rest of the cast includes
Anne Hathaway
,
Jessica Chastain
,
Bill Irwin
,
John Lithgow
,
Casey Affleck
,
David Gyasi
,
Wes Bentley
,
Mackenzie Foy
,
Timothée Chalamet
,
Topher Grace
,
David Oyelowo
,
Ellen Burstyn
,
Michael Caine
and
Matt Damon
.
Click
on the image to enlarge & stay tuned for that trailer!